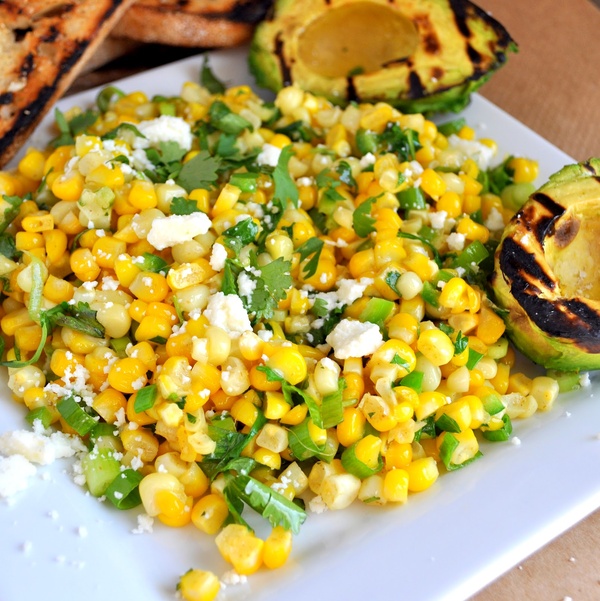 Wow it's hot out there!  And what better way to try to stay cool than to eat a delicious avocado & corn salad!
| | | |
| --- | --- | --- |
| Grilled Avocado & Corn Salad – recipe | | |
Ingredients
2 avocados, halved and removed from their skin
1 tablespoon butter
2 cups fresh or frozen corn
1/4 teaspoon cumin
2 scallions, chopped
1 tablespoon diced jalapeno (more or less)
1/4 cup chopped cilantro
1/4 cup crumbled cotija or feta
Instructions
Add the butter to a hot skillet. To that add the corn, cumin and a pinch of salt. Sauté until corn is just cooked; 2-3 minutes then turn off heat. Toss in the scallions, jalapeno and cilantro. Taste and add more salt if needed.
On a very hot grill or grill pan place the avocados on the grill. Let sit undisturbed for a couple of minutes. Flip the avocados over and grill the other side. Salt the avocados and place on a platter with the corn salad.
Grill some thinly sliced bread that has been drizzled with oil. Brush the grilled bread with a garlic clove. Serve alongside the salad.