So again, I'm gonna talk about one of the perks of my job is to do a bit of traveling, and experience the great eateries all over this great country of ours, and even the world.
The past few days, my "real" job brought me to Detroit, Michigan for a few meetings, but as a foodie, it brought me here to taste a few of the great restaurants. I stayed at the MGM Grand Detroit, and learned that Michael Mina has a few restaurants on the property that I had to try: Saltwater which is a fine seafood restaurant, and Bourbon Steak where Michael puts a slight modern spin on the menu.
A group of us started out our stay by dining at Saltwater, which is contemporary seafood with some American cuisine. The interior is beautiful. You are greeted with a huge, circular bar, which was designed by Tony Chi.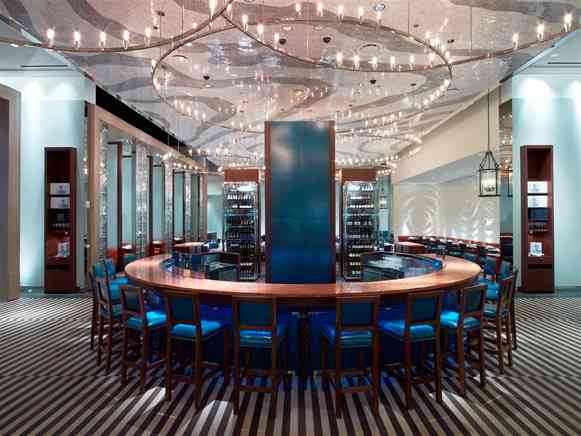 We had a nice, large table and a really friendly server, however, the service was a bit slow. Our server kept apologizing that this was really busy for a Tuesday night, and they didn't anticipate such a crowd. Understandable.
To start, I had a couple oysters rockefeller, which were perfectly prepared, fresh, and delicious.
For my entree, I had the miso glazed escarole served over a beautiful and flavorful broth that had, wait for it…yes, BACON! The fish was a generous filet, cooked perfectly, and paired amazingly well with the broth. Excellent.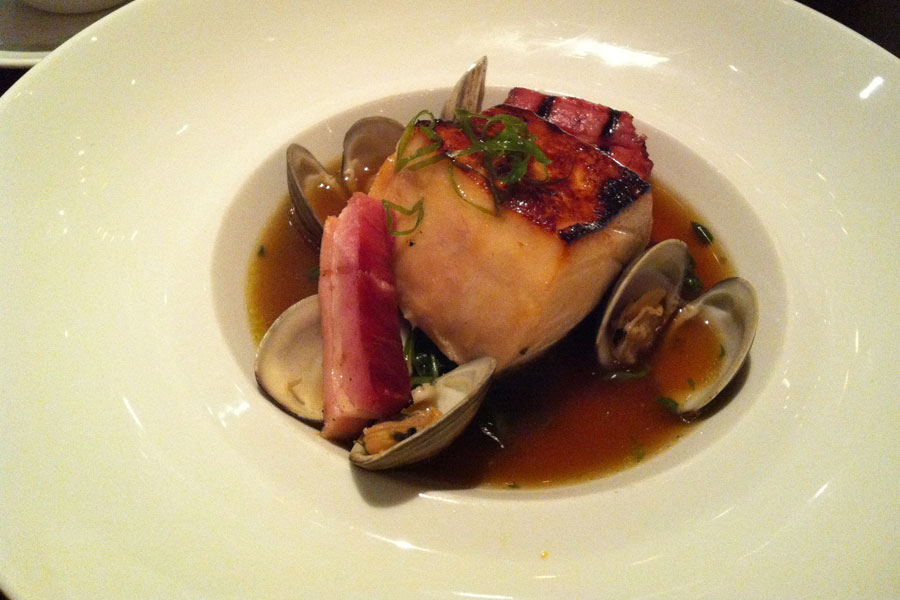 Overall, Saltwater was a great choice for some good, comforting seafood. If I were to go back, I would most definitely order Michael's famous lobster pot pie, which is a deconstructed and creative spin on a pot pie.
Last night, we went to Mina's other restaurant at the MGM Grand Detroit: Bourbon Steak. There was a large group of us, so we sat in the private room, which was surrounded by glass walls cleverly displaying their wine bottles.
We ordered pretty much every appetizer on the menu to share, some of the highlights were:
Ahi tuna poppers – man oh man were these good! They were a creative spin on your typical jalapeño popper. They were just the right size of a bite that packed a great finish of heat.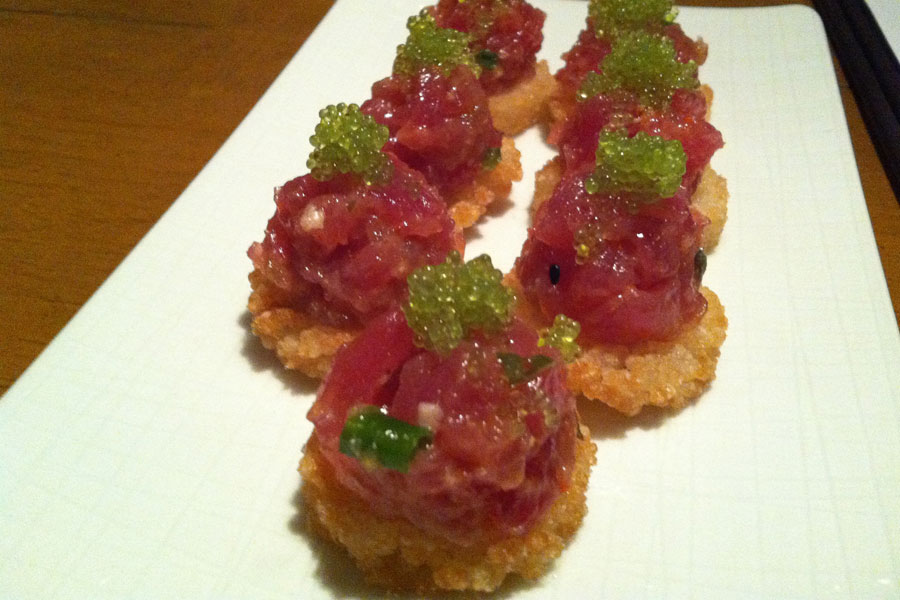 Lobster corn dogs – a healthy serving of lobster that was crisp and delicious.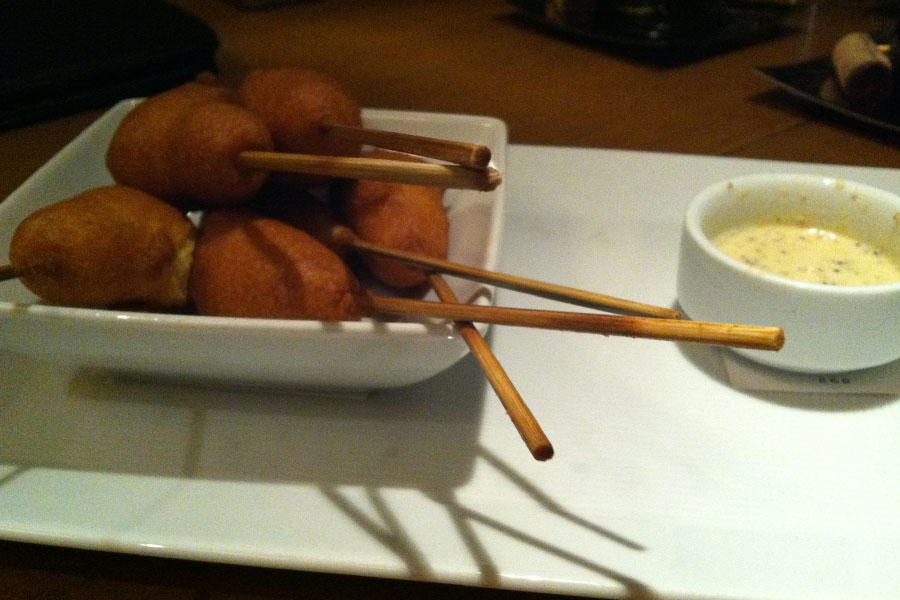 Gulf shrimp fritters – similar to the lobster corn dogs, they had a great crispness to them that complemented the shrimp.
For my entree, I opted for the 16 ounce Kansas City strip steak, medium-rare, of course. The steak had a perfect crisp on the outside, a beautiful pink on the inside that just exploded with juice. I really enjoyed the simplicity of this steak (which was obviously butter poached prior to grilling).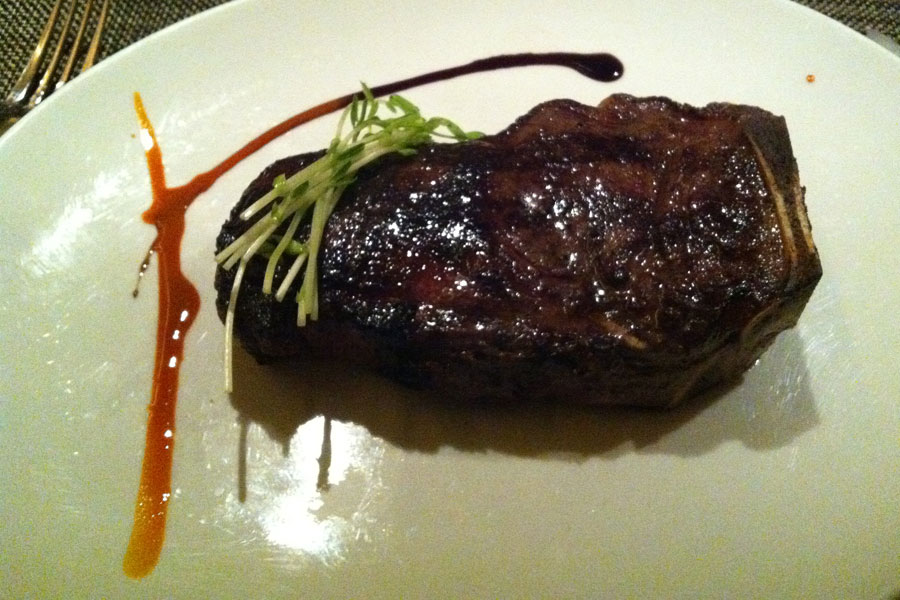 We did have quite a few sides that were worth mentioning:
Truffled mac & cheese – ooey gooey goodness, with a hint of truffle on the finish. So so good.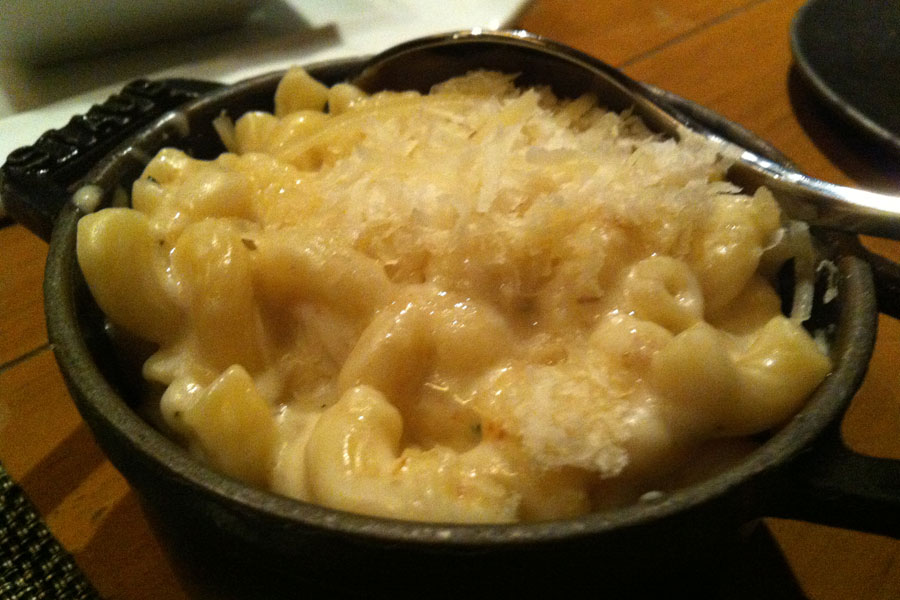 Trio of french fries – crispy, flavorful, and had great dipping sauces.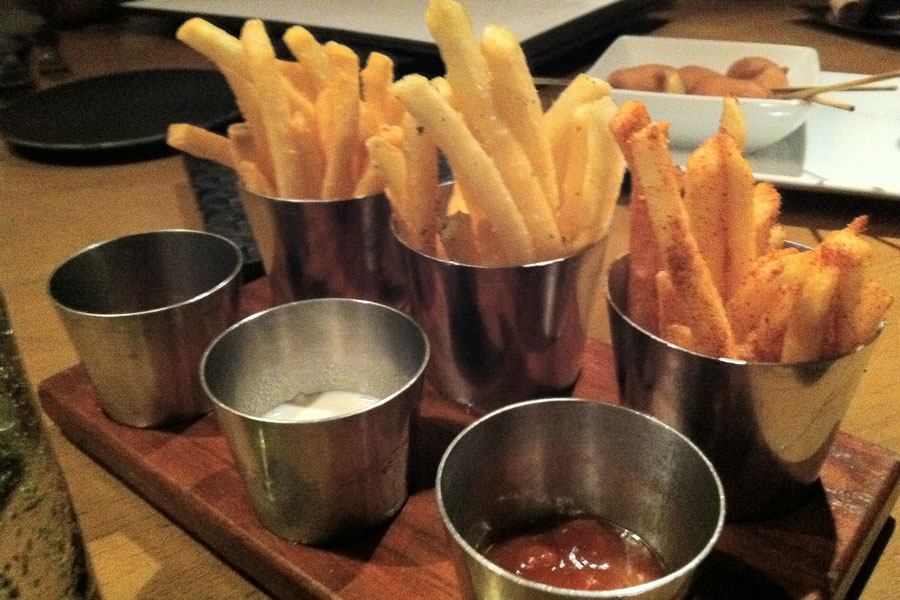 …and my favorite side that came with the meal: the amazing Bourbon Steak cornbread! I did get the recipe from the restaurant, so I'll be making some soon and posting the recipe for all of you to enjoy.
Overall, Michael Mina is an amazing chef, as are all of his Executive Chefs running the day to day of his restaurants. Food was fresh, cooked to perfection, and was visually beautiful. If you haven't experienced a Michael Mina restaurant, you need to try one.
Saltwater at the MGM Grand Detroit
1777 Third Street
Detroit, MI 48226
Tel: 313.465.1646
Saltwater website
Bourbon Steak at the MGM Grand Detroit
1777 Third Street
Detroit, MI 48226
Tel: 313.465.1734
Bourbon Steak website