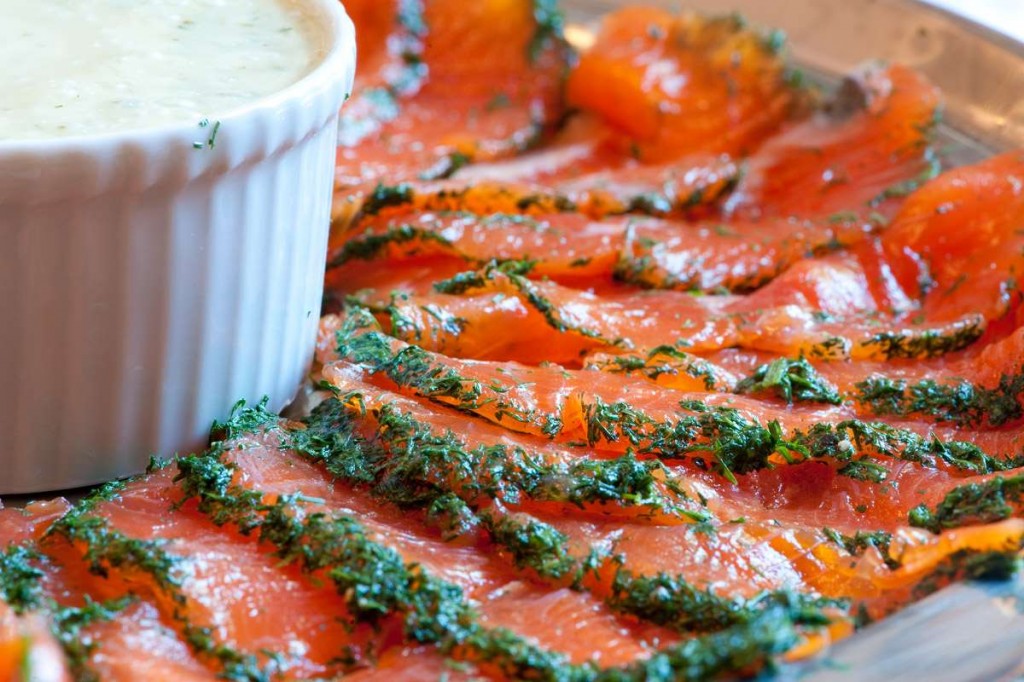 I'm always looking for interesting recipes to share…especially ones accompanied by beautiful photos. Here's another interesting recipe by Steffen's Dinners.
The recipe is remarkably simple, and since then, I have made this dish many times. You just need a nice raw skin-on salmon fillet and a plastic container, ideally with a lock-on lid. After curing for a few days, it is best served with a special "mustard-dill sauce for gravlax" and bread. Gravlax makes a wonderful starter but (with enough bread) it can also provide a full meal.
Gravlax
Preparation time: ca. 30 minutes plus 2-3 days of curing time
Ingredients:
2 lb / 1kg raw salmon fillet (skin-on, scaled). After trying various varieties of salmon, I've settled on steelhead.
2 tbsp coarse salt
2 tbsp sugar
1 tsp freshly ground pepper
1 bunch of dill, coarsely chopped
2 tbsp dried dill
3 tbsp cognac
Preparation:
1. Mix salt, sugar and freshly ground pepper.
2. Cut the fillet in half.
3. Place one half-fillet skin-down in a plastic container.
4. Cover with the salt-pepper-and-sugar mixture.
5. Distribute the chopped dill and the dried dill over the fillet.
6. Place the second half of the fillet on top, this time skin-up.
7. Pour cognac over the fillets.
8. Weigh down the fillets. I found it is best to use a plastic container with a lock-on lid and place a smaller container upside down on top of the fish before putting on the lid. See pictures below.
9. Cure in the refrigerator for a few days. Turn fillets about once a day.
10. When finished curing, prepare the mustard-dill sauce for gravlax.
11. Cut the fish into thin slices. Serve with the sauce
Notes:
After curing and slicing, gravlax freezes very well. Just make sure to thaw carefully and slowly (in the refrigerator).
Mustard Dill Sauce for the Gravlax:
Ingredients:
1 tbsp Dijon mustard
3 tbsp sugar
5 tbsp white wine vinegar
½ cup / 125ml vegetable oil
1 tbsp chopped fresh dill
1 tbsp gravlax marinating liquid
1 tsp freshly ground pepper
salt to taste
Preparation:
1. In a small food processor combine mustard, sugar, vinegar, pepper and marinating liquid
2. Blend together, slowly adding the vegetable oil, a few drops at a time
3. Whisk in the dill