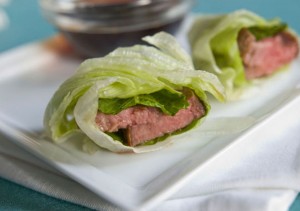 Eric Ripert, one of this decades most celebrated chefs (and one of my personal favorites) just shared this beautiful recipe with us.
Here's what Eric says about it:
I love this dish. It is so simple but so good and healthier than most hors d'oeuvres. It is light and fresh but flavorful enough to make it a substantial bite of juicy steak wrapped in lettuce.
Seared Beef Lettuce Rolls
Ingredients:
1 clove minced garlic
1 teaspoon grated ginger

½ cup soy sauce

2 teaspoon Sriracha chili paste

¼ cup lime juice

1 pound flank steak

fine sea salt and freshly
ground black pepper
1 tablespoon canola oil
½ cup basil leaves, loosely packed
¼ cup mint leaves, loosely packed
8 large iceburg leaves

24-30 pieces chives, blanched
Preparation:
1. Stir together the garlic, ginger, soy sauce, chili paste and lime juice in a small mixing bowl. Reserve half to use as a dipping sauce.
2. Season flank steak on both sides with salt and pepper and pour the remaining marinade over the steak. Let the steak marinate for at least 15 minutes and up to 2 hours.
3. Heat a large pan over high heat add the canola oil and quickly sear the steak in the hot pan, about 2-3 minutes on each side. Transfer to a cutting board and let cool.
4. Slice the seared flank steak crosswise into very thin slices.
5. To make the rolls, lay out a lettuce leaf and trim to about 6 inch square; lay sliced beef in the middle and top with fresh basil and mint leaves. Roll the lettuce leaf around the beef and herbs and tie with three pieces of blanched chives. repeat with the rest of the ingredients.
6. Slice the rolls into 2-inch rolls and serve with reserved dipping sauce.