Following celebrity chefs has been a hobby of mine lately. As luck would have it, I happen to live in one of the culinary hotspots in the country, however, fine dining here in Los Angeles means something a bit different than fine dining in, let's say, New York. Here in L.A., "fine dining" does not necessarily mean putting on your best suit and having a multi-course Chef's spontanée menu served to you over the course of 5 hours by a 5 star chef with a few Michelins, a James Beard nom, and the ability to turn foie gras into a dessert where you won't even raise an eyebrow. Don't get me wrong, THAT type of fine dining is one of my favorite experiences as a foodie…the type of experience that is almost impossible to convey the range of emotions that each course brought you. The type of experience that drives you to find that one chef that can outdo your last amazing experience.
In Los Angeles, things are a bit different when it comes to fine dining. Dining here is more of a casual experience that lacks spontaneity. It's more about who-goes-where, rather than who the chef is, and what they're known for. It's more of how much food do I get for the price? rather than how do these ingredients work together? You get the point. I think it's a very simple explanation about the dining experience in L.A. versus anywhere else known for amazing fine dining: accessibility and social behavior. I could write an entire article about this (which I might just do), however, to simplify this, and move on with what this post is really about, I'll sum it up with the fact that in L.A., our public transportation is horrible, which often makes trekking across town to meet up with friends an awfully long, treacherous experience. Also, we just don't have the time here to dine, as let's say, in New York, where you can get off of work (usually late), pop on the subway, and head across town to meet a group for a late dinner. That just doesn't happen that way here in L.A. (mostly).
Earlier this year, I was ecstatic to hear that Rick Bayless was involved in L.A. to open a restaurant. Later on, I heard it was going to be called Red O, where it's not actually owned by Rick, but the focus was to feature his cuisine (which he will regularly oversee) which is a modern take on traditional mexican dishes. By the way, Mexican food is one of my favorites, so I'm sure you can put it together: a celebrity chef + Mexican food = one happy foodie. Red O officially opened on May 26th, 2010, and getting a reservation there was nearly impossible for the first three or so months.
I finally got my shot. A great dinner reservation after spending an amazing day at the beach!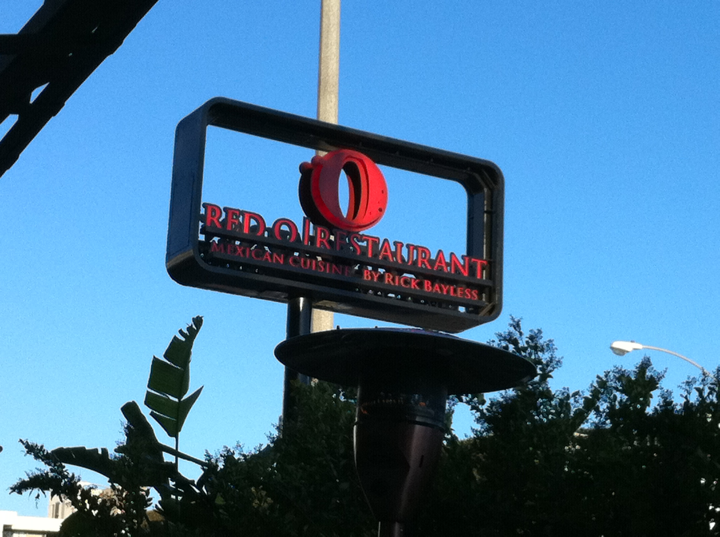 From the outside, you're met with a stunning, contemporary design, along with a burly security guy that makes sure you do in fact have a reservation. Once confirmed, you are sent in to be seated. On the inside, again, contemporary design, complete with a really nice long bar with two swing chairs, a glass tequila tunnel, and a giant, retractable roof.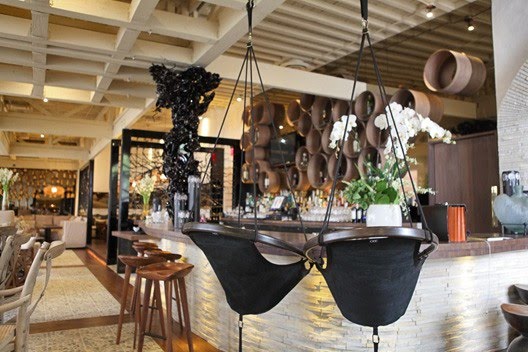 Red O bar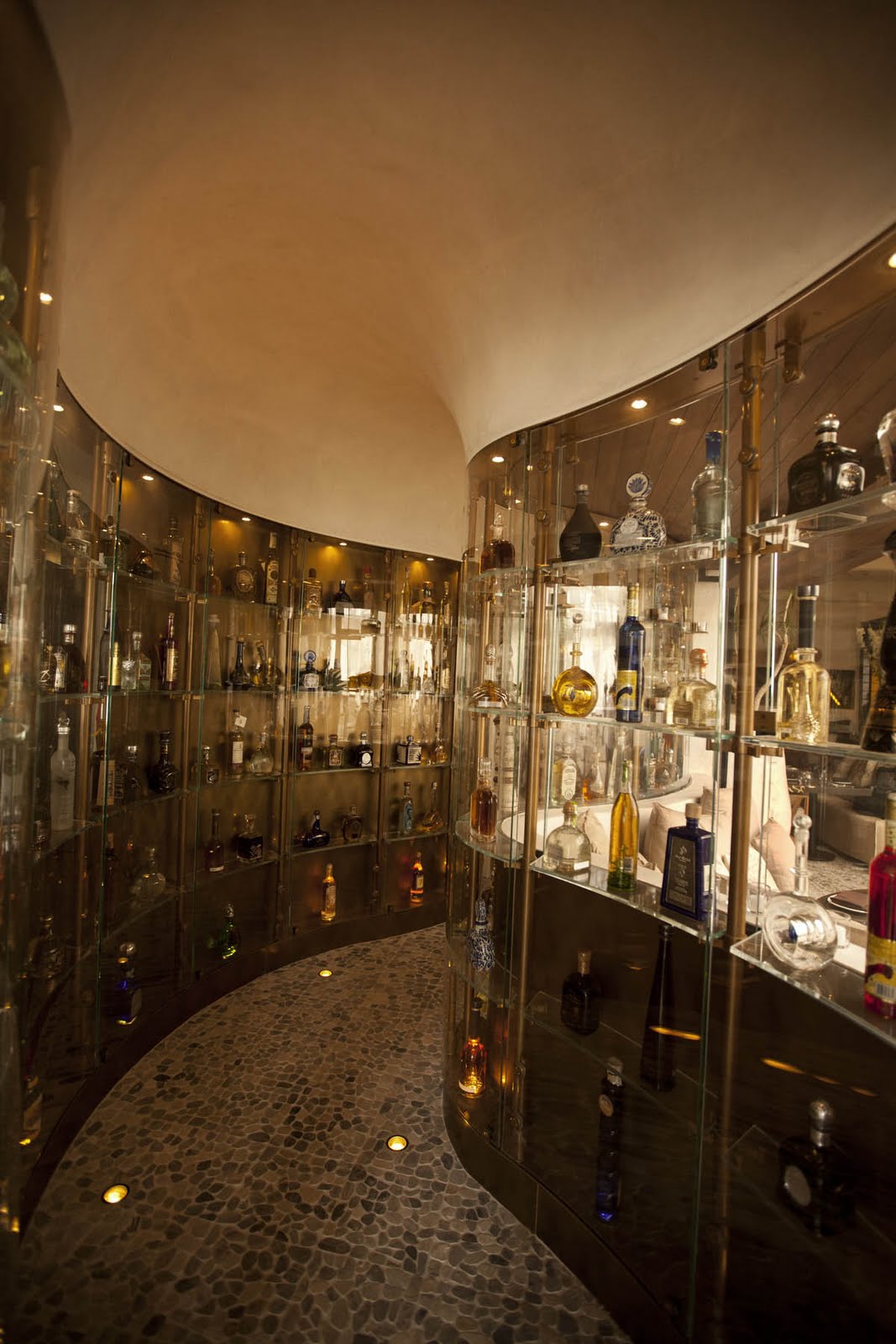 Red O tequila tunnel
The menu does NOT disappoint. From amazing tequila cocktails to dessert, you're fully covered with amazing menu choices that have a modern spin on traditional Mexican dishes. I've been to Red O now a few times, and here's some suggestions on what to order:
Cocktails & Margaritas:
Alacran Margarita (the scorpion) – comemorativo anejo tequila, Veev acai spirit, fresh Mexican papaya, homemade limonada, serrano infused syrup. This drink was by far my favorite. It was a perfectly balanced, delicious margarita that was extremely refreshing, and as an added bonus, some good heat on the finish.
La Sirena (the mermaid) – Herradura silver tequila, Veev acai spirit, homemade limonada, mango grenadine, serrano mint simple syrup. This was another perfectly balanced margarita. Similar to the scorpion, it was a bit more tart and had some slight heat on it.
Appetizers & Starters:
Yellow-fin tuna ceviche – All I can say is yum. If you're a ceviche fan, this is a must try! Very clean flavors with simple, fresh ingredients. A perfect balance of flavors.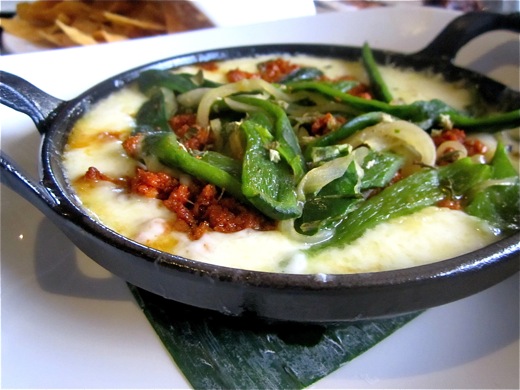 Chorizo and roasted poblano chile Queso Fundido – Nothing healthy about this dish, however, it's damn delicious. The cheese is extremely creamy, and the chorizo has just the right amount of bite.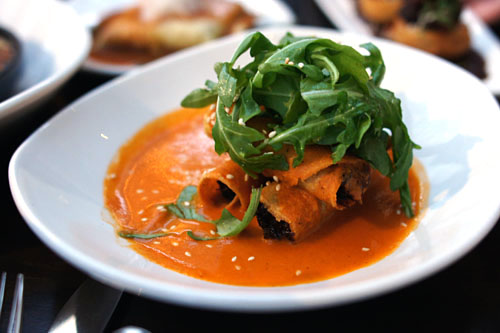 Duck taquitos – The taquitos are really tasty, however, I couldn't really get the flavor of the duck…probably due to the frying.
Entrees: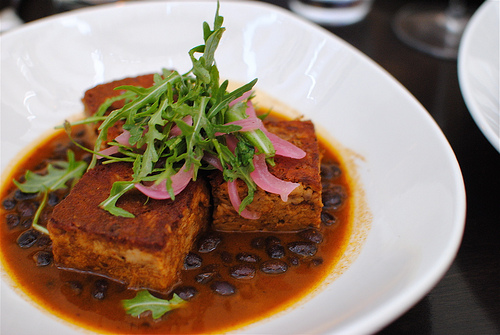 Cochinita Pibil – tortilla fed suckling pig, achiote-marinated and slow cooked in banana leaves, served with black beans. This dish was amazing. The pork was so tender it just exploded when you touched it with your fork. Once it hit your tongue, your taste buds exploded with every sensation you could imagine: savory, salty, sweet, and once it caught up with the habanero salsa, the heat rushes through your mouth like a car on a racetrack.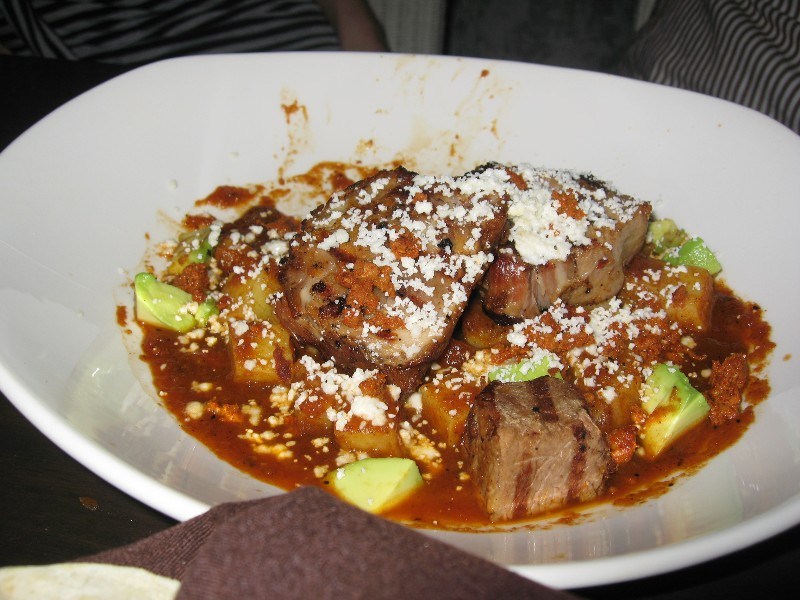 Tinga Poblana – braised pork shoulder, chorizo, tomatoes, chipotle, potatoes, avocado, queso fresco. Another instance of ridiculously tender pork. This dish was savory and clean.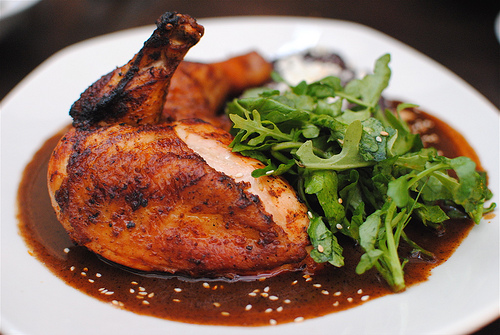 Pollo en Mole Poblano – grilled chicken, homemade mole sauce, black beans. This dish is no joke. I've heard all the stories about Rick's mole sauce, which has taken him over 20 years (and 28 ingredients) to perfect. This was the only dish I was excited to try, and in fact, I avoided chicken and mexican food for a few weeks to clear my palate and any expectation I may have had. This dish was superb! An absolutely PERFECT mole sauce, which each bite seemed to get better and better. If you could only have one dish at Red O, this HAS to be it.
So now when I refer to "fine dining", Red O is my #2 in Los Angeles. I absolutely love this place, and can't say enough great things about it. Rick Bayless is a genius, and the flavors are some of the most satisfying I've ever tasted.
Red O Restaurant
8155 Melrose Avenue
Los Angeles, CA 90046
(323) 655-5009
Website