I know that I've completely slacked on adding this article sooner. I know, I know, no excuse…especially since Providence is my favorite restaurant in Los Angeles.
The word "outstanding" doesn't do this restaurant justice. In my opinon, Providence is the finest dining experience in all of Los Angeles – and a close contender with Fleur de Lys in San Francisco. Their 2 Michelin Stars were very well deserved.
Upon arrival, you are immediately absorbed into the architectural beauty of the outside. Very sleek and modern, yet, warm and inviting. The wood really accentuates the lines of the remodeled building, creating a familiar and friendly feel. You walk inside, and it almost appears that you have entered a maze of a modern hotel. The zen-like feel combined with the very cohesive interior design immediately sets the tone that you are about to experience something wonderful.
The Maître d' was extremely polite and prompt, and had us escorted to the Chef's table quickly. I took a nice little side tour to check the rest of the restaurant out, in which I passed by the nice bar, through a cute room to ultimately arrive to another cute room, this time much more quaint and private, with only a few tables. A great layout with very nice dining rooms.
The chef's table is located in a beautiful private room just outside the kitchen. The floor to ceiling windows allow for a perfect, unobstructed view into the kitchen to watch Chef Cimarusti putting the final touches on our dishes. The chef would occasionally look over to us to gauge our reactions on our dishes, which was pretty fun. He's a great guy.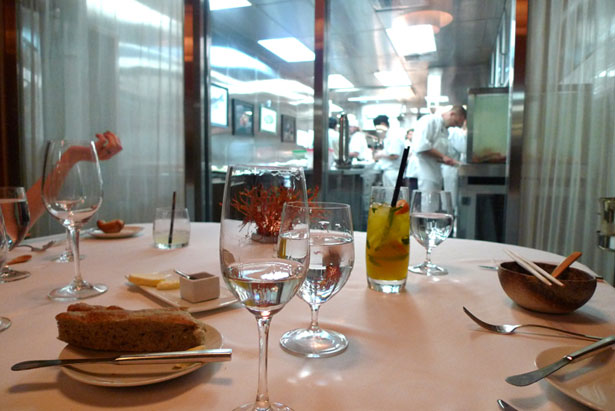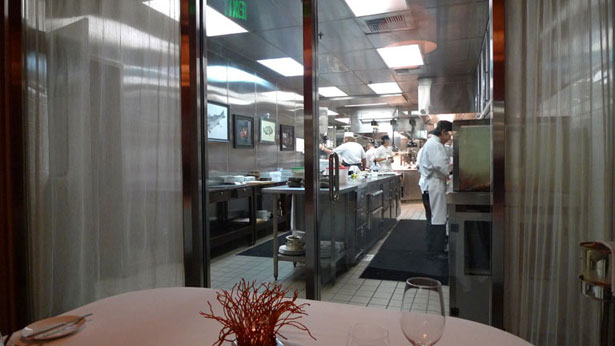 We started out with a few aperitif cocktails, which we opted for a few of their specialty cocktails while we perused the vast wine list even though we were having the tasting menu with wine pairing, but nonetheless, I still like to see the wine list. I can tell a lot about a restaurant (actually, the chefs and the Sommeliers) based on the wines they carry. They had some fine choices which would definitely pair well with gastro seafood. Now on to the meal…
We did the 7 course Chef's tasting menu. I mean, hell, we're at the Chef's table, so why not let Chef Cimarusti just let loose and artistically craft us one of the best meals we'll remember for years to come. The chef came out and greeted us, and let us know that we were in for a great ride that evening. His positivity and enthusiasm discussing ingredients really set the tone for the night.
The first amuse bouche was magnificent. They were a trio of molecular gastronomy cocktails. They were: Greyhound, Gin & Tonic, Margarita. These alcoholic amuse bouches were amazing, and yes, they DID actually have alcohol.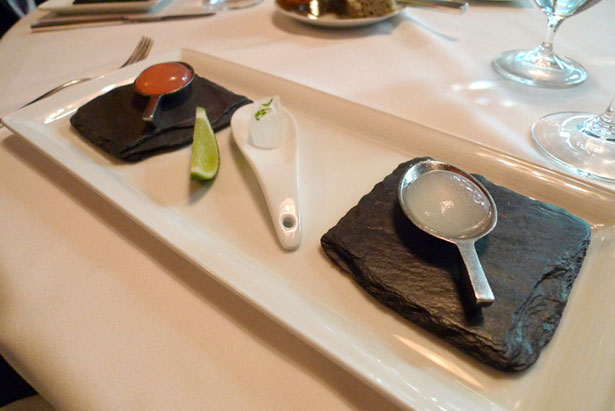 Amuse bouche #2 was up! This was our first taste at Chef Cimarusti's beautiful presentation. It was a dual dish: salmon, crispy rice, gelee, roe & gold flakes and the other was a wasabi coated marshmallow with some amazing cheese filled pastry. Delicious!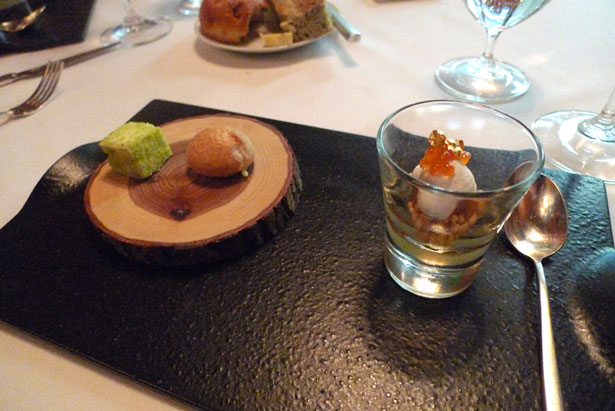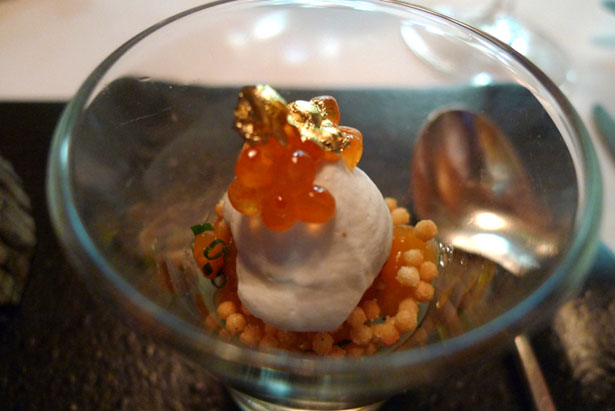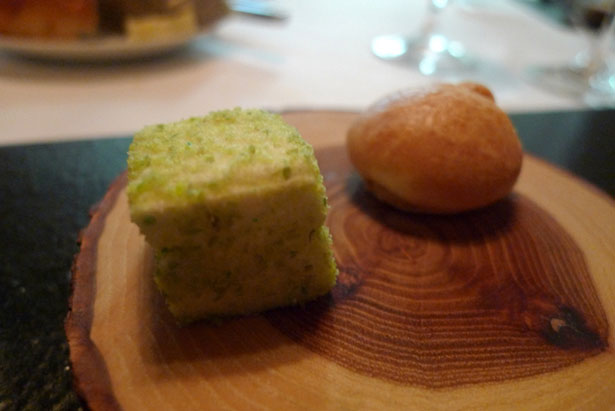 OK, so far so good. We knew we were headed on a culinary adventure based on those first 2 dishes…and honestly, it just got better!
Course 1: Crab with cherry blossom gelee and microgreen salad. This dish was exquisite. The flavors were very dainty, yet complex. The texture was perfectly balanced. This was a beautifully plated dish as well.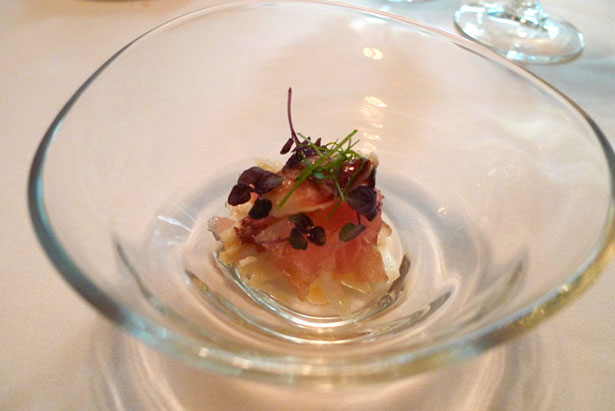 Course 2: A beautifully prepared seared ahi. I have never in my life had a piece of ahi that was seared as perfect as this one was. Delectable.

Course 3: Uni, egg, & roe. Believe it or not, this was my first time ever having uni. I know I know…but I did find out one thing, I'm allergic to it. Shortly after eating it, my throat started getting uncomfortably tight with itchiness around my mouth. Fun!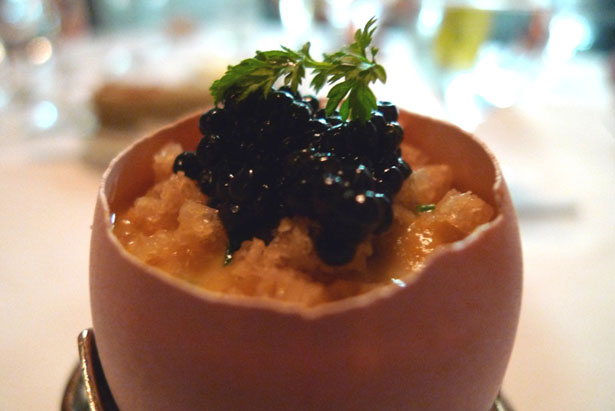 Now that my throat was back to normal, I was ready for Course 4: spot prawn w/ english peas. The prawn was perfectly sweet, and the english peas were a creative compliment. Another beautifully executed dish.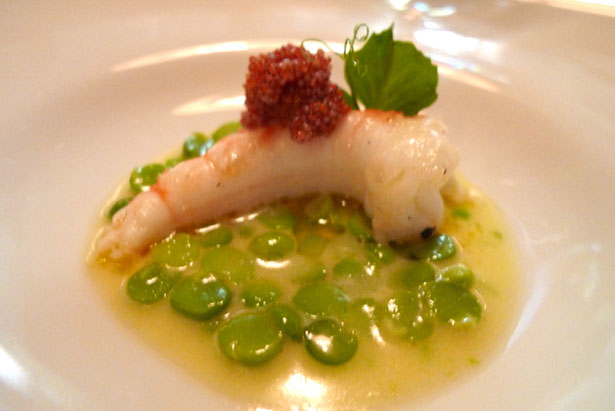 Course 5: Abalone, unagi, ginger, quail egg, and black truffles. Wow. The flavors that this dish had were memorable, as was the presentation.

Course 6 was now up: wood grilled octopus with blood sausage. This dish was AMAZING!!! Hands down, this was my favorite dish of the night. The octopus was grilled absolutely perfect, and the blood sausage perfectly complimented the hint of smokiness that the octopus had. Absolutely fantastic!

We were now slowing down a bit, but that surely didn't stop Chef Cimarusti from carrying on with amazing creations. Next up, we had Course 7: salmon belly, morel mushrooms, hazelnuts, and lots of carrot stuff going on, including a carrot reduction and carrot salt. This dish was absolutely beautiful to look at. I didn't want to disturb the Chef's artistic creation here, but then my stomach took over and tore into it. The salmon belly was delicious, as was everything else that went into this dish.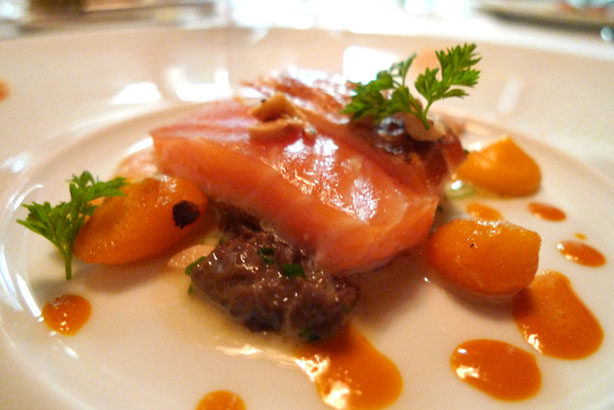 Our courses were over, until our server offered us a special course of some amazing Waygu beef that they just got in that day. How could we resist? Course 8: 2 ounces of Wagyu beef, chorizo, cauliflower, and a tomato puree. Wow, another home run. The beef was expertly prepared, and the chorizo added a perfect balance to the dish. Spectacular.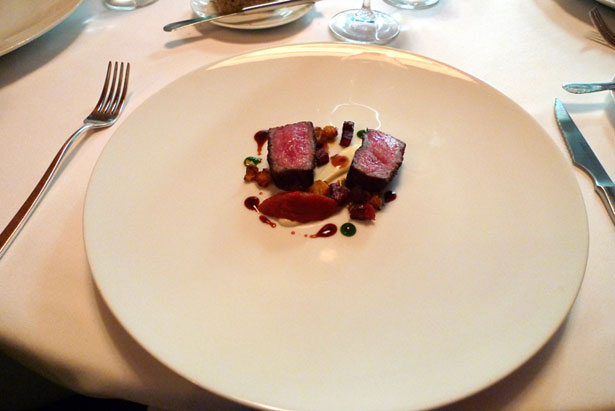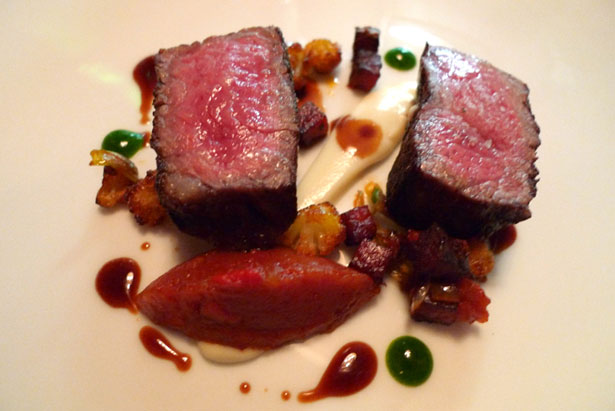 OK, NOW we were done with our main courses, and what better way to cleanse the palate and prepare for dessert? You guessed it, a cheese tasting. The maître fromager brought the cart over, and walked us through the amazing cheeses they had. Based on our input, along with his expertise, we had a nice selection of fantastic cheeses. My favorite was the black truffle cheese. Ridiculous (in a good way).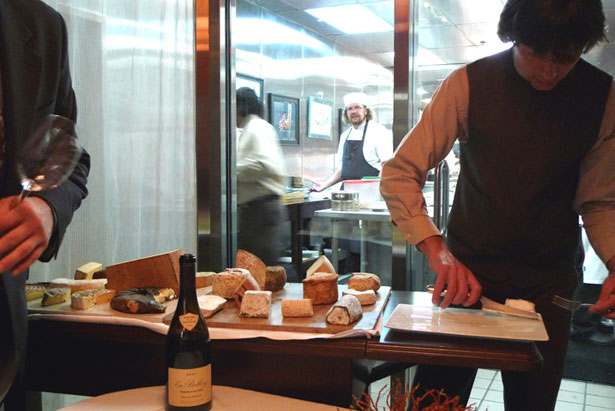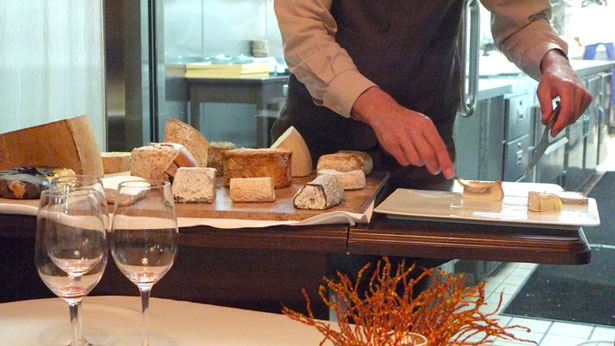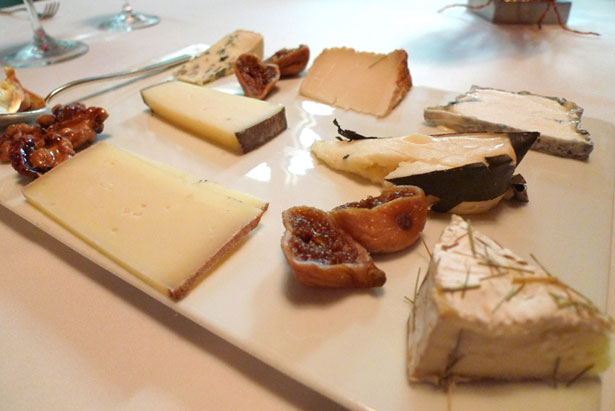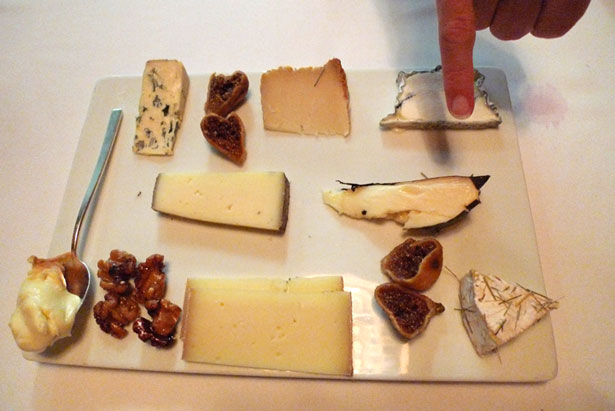 Dessert time!!! All of the desserts were great and simple. Dessert Course 1: tapioca, mini coconuts, & other delicious stuff.

Dessert Course 2: Yogurt air crisp, pistachio cookies & mandarin orange something-a-rather. This dish was really light and refreshing.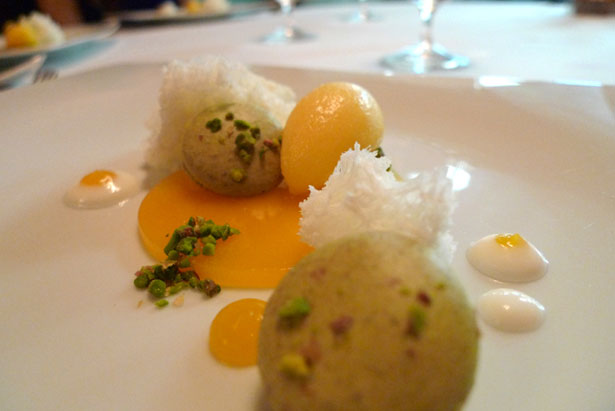 Dessert Course 3: Caramel goodness. This dessert was unbelievable!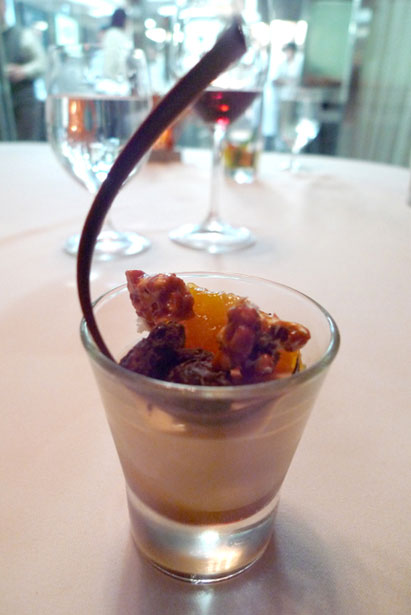 Dessert Course 4: Chocolate mousse cake, sesame ice cream, kumquats, & sesame crisp. Another delicious dessert. Decadent, rich, and chocolatey!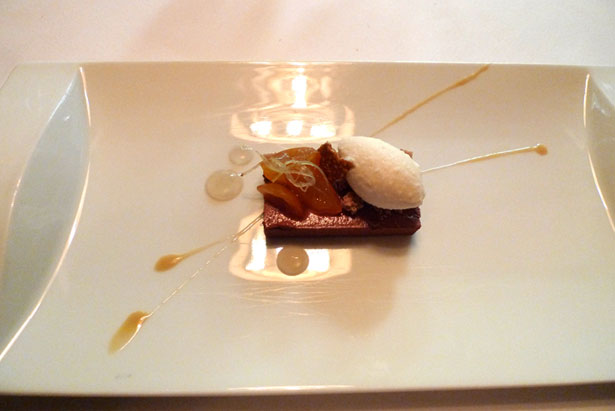 Petit Fours

I also wanted to point out that all of the wines that were paired with our tastings were fantastic. Not one was a bad choice, and our Sommelier really made great recommendations. Great experience!
After our meal, we were stuffed, happy, and in awe over the dishes we just ate. Chef Cimarusti popped in and chatted with us for a while. We learned a little bit about his background, and what influenced his cooking style. He's a really nice guy.

All in all, Providence will definitely be going in my rotation of 5 stars to frequent. The entire experience, including the service was phenomenal. If you're looking for an amazing gastro seafood experience, then Providence is a must try.
Providence
5955 Melrose Avenue
Los Angeles, CA 90038
(323) 460-4170