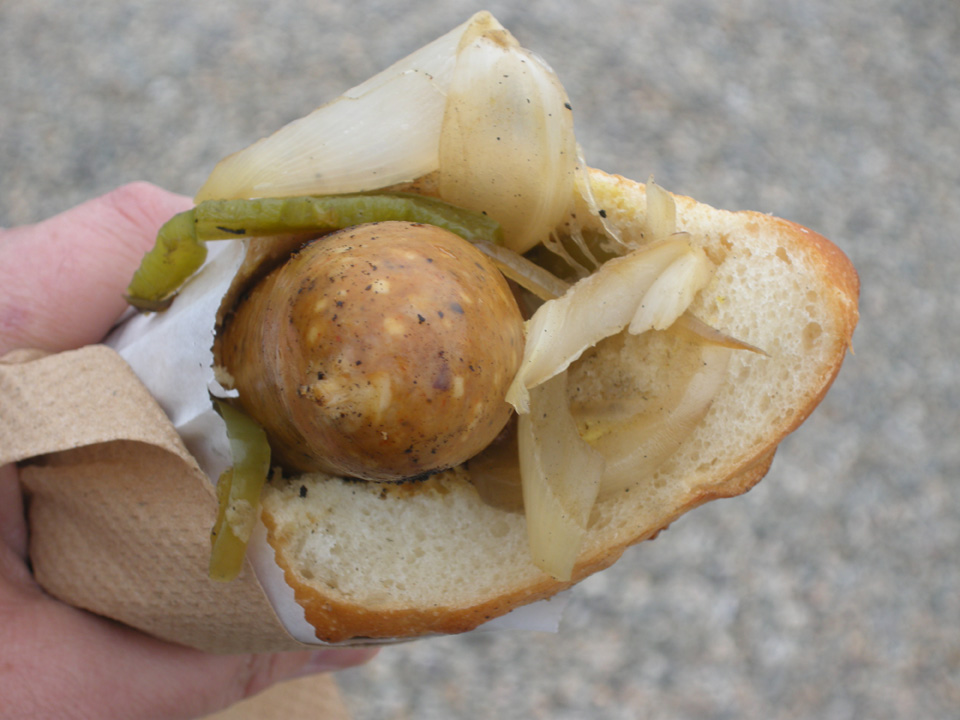 Knight Salumi Co makes its rounds on the San Diego County farmers' market circuit to primarily sell its salami, and they sell some really good salami. However, Knight Salumi Co. also makes some really delicious sausage sandwiches that are very much worth the 6 bucks you pay for one. So on Saturdays I often like to go over to the Poway Farmers Market for a sausage sandwich. I personally am not a big fan of sausage, so it takes a good sausage to really satisfy me. Ok, that didn't sound right, but then it's really hard not to sound a little lewd when you are talking about sausage.
There are two types of sausages that they offer. One is the Kaiser Krainer, which is a Spicy Pork with Smoked Gouda sausage. The other, well I forgot what the other one is, because I only order the Kaiser Krainer. I know, I need to try the other one too, but the Kaiser Krainer is just really delicious. What can I say? I'm a creature of habit.
They first boil the sausage in beer, onions and a hunk of butter (Like you need any more fat). Then they fry the sausage on an electric skillet, along with the sour dough roll that they place them in. Now please, don't take what I am going to write the wrong way. Like I said before, it's very hard not to come off somewhat sordid when talking about sausage. So get those dirty thoughts out of your mind. But then if those dirty thoughts entice you to come down to San Diego and purchase one, then leave'em in.
Now back to the sausage sandwich. When you place an order, they'll throw a sour dough roll on the skillet. After letting it fry for a bit, they cut the tip off and either hand it to you to eat or put it in the bag that they're going to put sandwich in. Then they work a hole in the roll with the tongs. Before or after that they'll ask you if you would like mustard, onions and sauerkraut with it. I usually take the mustard only, but sometimes I'll get fried onions with it too. I'm not a kraut though. Sauerkraut just doesn't sound all that appetizing. The mustard is not the regular French's "Baby Shit" mustard either. They use really good deli mustard with a kick. They will then pump the mustard down the hole in the roll, and if you ordered kraut or onions with it, they'll shove it down that hole too. After that, they take a sausage and stuff it in the roll nice and tight and serve it to you. Once you bite into that nice thick juicy sausage, you will taste all of the flavors come together. The creamy melted Gouda really compliments the lingering spice of the sausage too.
Now don't make the mistake I once made by getting there too early. Because when the sausage is too fresh, it means that it hasn't soaked in its own fat on the skillet long enough to really get that good flavor. Get there about an hour or so after the farmers' market has opened, because that's when the sausages have been on the grill for a while. Also avoid going there when it's been raining, because if it's raining, not many people will be at the farmers market. Hence with the fewer people, there is less motivation to have the sausages on the grill in anticipation for the demand. So the sausage will be fresh and less flavorful. You want them to be dark with a little burn on the sides. They also sell the sausage separately so you can make it at home.
Below is a link to their website where you can find all of the Farmers' Markets that they sell at. It doesn't matter which Farmers' Market you go to either. Just go to one and get yourself a Sausage Sandwich. It'll be worth it.