Going to the Culver City farmer's market is a blast! I mean, seriously, It's the mecca for foodies. Wandering around, going booth to booth, teasing all of your senses: seeing all of the amazing colorful fruits and vegetable, hearing the constant buzz of the purveyors and local musicians, smelling the amazing aromas of the food vendors. But have you actually tasted anything at the farmer's market?
I was there tonight, starving from all of the window shopping I was doing of the most amazing and colorful looking veggies, and then I found it. The indescribable smell of greatness teasing me until I finally caved in. Where did it lead me? Candy's Gourmet Sausages on the Culver Blvd end of the market, that's where.
Candy's Gourmet Sausages is a wholesale and restaurant meat and sausage purveyor which also serves up some awesome looking BBQ here at the farmer's market. Candido (Candy) is manning the grill, throwing around some pork ribs, chicken, pork loin, and chicken sausage.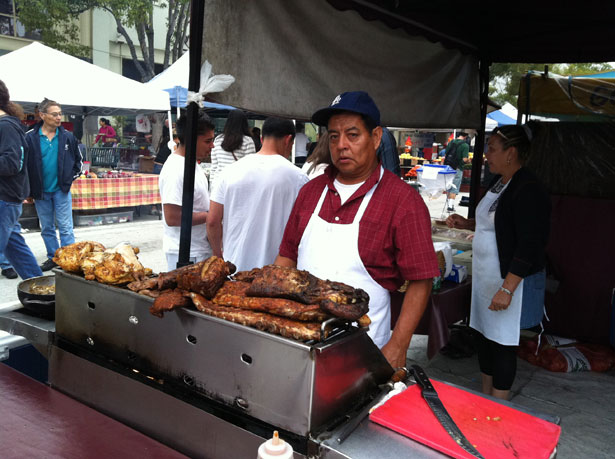 The pork loin looked fantastic, so that's what I went with. Candy sliced off some generous pieces and threw them back on the grill for a few minutes before slapping them on the sandwich roll, along with a generous helping of grilled onions.
The pork was super super delicious. I mean, out of this world. The roll was soft, and absorbed the deliciousness of the grilled onions.
Next time I go back, I'm gonna do the ribs!
Candy's Gourmet Sausages
Farmer's Market: Located at the end Main St. cross of Culver Blvd.
Business: 339 Washington Blvd – Marina Del Rey, CA 90292
(310) 751-6277
Candy's Gourmet Sausages does catering, too!