So, I'm addicted to Diners, Drive-Ins, and Dives, hosted by Guy Fieri. It's my Sunday early afternoon ritual to just veg out to that show and learn about the ridiculous dishes that these little mom & pop places are known for around the country.
One episode especially caught my attention…the one featuring this little place in Indianapolis called, 3 Sisters Café. This cafe served one of the most amazing looking pies that I've ever seen: a blueberry basil goat cheese pie. This thing has 3 of my favorite ingredients in it, so I absolutely had to make it.
There was a little bit of tweaking that I had to do in order to get the recipe perfect. Here's the recipe:
Ingredients:
Crust:
2 cups all-purpose flour
1/2 to 3/4 cups cold margarine
1 tablespoon sugar
Pinch salt
Cold water
Filling:
1/2 cup soft goat cheese
1/2 cup heavy cream
1 large egg
1/2 cup brown sugar
1/4 cup all-purpose flour
Pinch salt
1 tablespoon finely chopped fresh basil
5 cups fresh blueberries
Topping:
1 cup sliced almonds
1/2 cup sugar
1/3 cup melted margarine
Directions:
crust:
• Combine the flour, margarine, sugar, and salt in a large bowl. Work with your fingers gathering and crumbling until you have a crumbly mixture, about the size of peas.
• In small amounts, slowly add cold water, gently incorporating by hand. As soon as the dough comes together in a ball, wrap in plastic wrap and chill for 30 minutes.
filling:
• Mix the goat cheese, heavy cream, egg, sugar, flour, salt and basil together in a bowl.
• Add the blueberries and mix to desired texture.

topping:
• Mix the almonds, sugar and margarine in bowl, set aside.

• Preheat the oven to 350 degrees F
• Roll out the dough and place in a 10-inch pie pan

• Pour the filling into the crust

• Sprinkle the topping over the top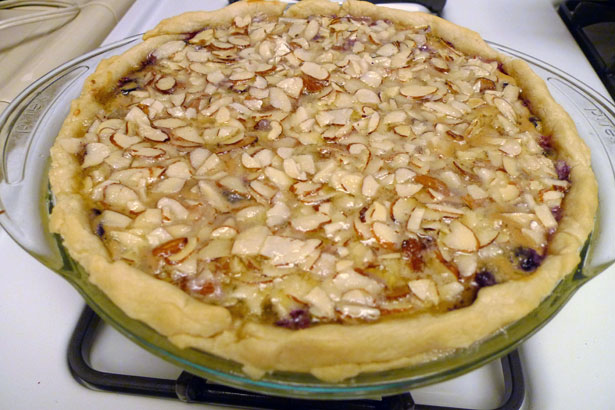 • Bake 40 minutes, rotating at the pie halfway through
• Remove from oven, cool for 30 minutes, then transfer to the fridge for a few hours. This sets the pie.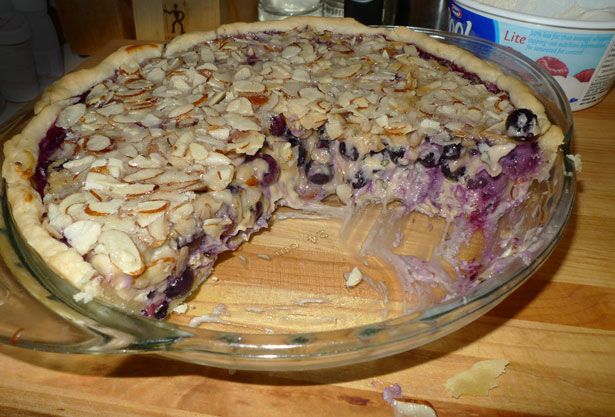 Eat, and enjoy!