David Burke Townhouse – amazing tasting menu (review)
Greetings from New York! Actually, by the time this is posted, I'll most likely be back home in LA.
Anyway, I had the pleasure of spending a couple of days in the home of fantastic cuisine. One of the great things about being a foodie is experiencing great food while traveling, and New York is one of the best cities to experience food in. Around every corner, you can experience many different delicious cuisines inspired by the many ethnicities.
As you may know, I'm a huge fan of Top Chef. This past season, season 8, they did an episode called "New York's Finest", where David Burke Townhouse was one of the locations that the chefs had to cook in. They're known for beautiful and often "whimsical" plating techniques. I HAD to go here.
I hopped a cab uptown, salivating the entire ride. I was imagining the possibilities of an amazing meal from DBT…did they have a tasting menu? was the presentation going to blow me away? was this going to be an epic dining experience? Yes, yes, and yes.
Outside, the restaurant is located in a cute little spot on E 61st St. There's a few benches and a table to enjoy while waiting for your table, just under the awning sporting the name.

Inside, the decor is fun, energetic, and whimsical, complete with a beautiful bar on the right.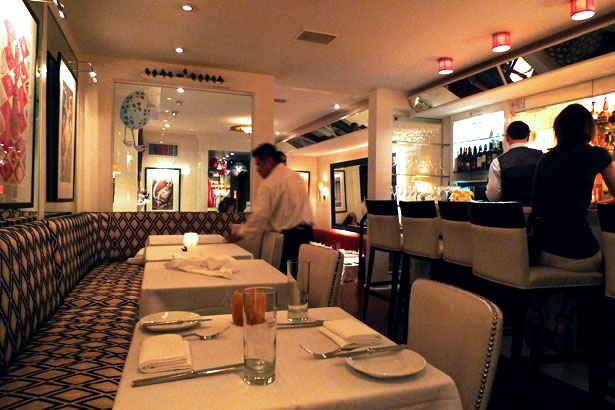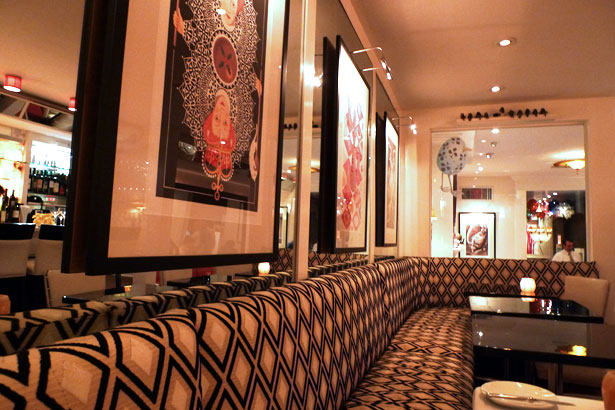 After I checked in, I was quickly escorted to my table, a great spot at the front of the house, perfect for people watching while dining solo. I really liked the layout of the restaurant. It felt open enough to people watch, while having enough space to feel like you have a bit of privacy. I opted for the 7 course chef's tasting menu, which my server assured me would be an amazing experience.
Here's what I had:
Amuse bouche – Poached quail egg with sturgeon caviar and garnished with a chive, served on a spoon.
This was a great start to the experience. The interesting thing about this bite, was that it played out in your mouth. After you pop it in, you get the savory quail egg, then the brininess of the sturgeon caviar, and then the bite of the chive to finish.

Hamachi crudo with radish
Although I did not take a photo of this dish, it was fantastic. The hamachi was served at a perfect temperature, with the butteriness of what seemed to be a sesame oil.
The next course was a watermelon salad with arugula, ricotta, pork proscuitto served on top of a basil tapenade.
This dish was light, crisp, and balanced between sweet and savory. The ricotta added a great textural balance to the crispness of the watermelon and arugula.

Now with this course, the meal was brought to a whole other level. I was now experiencing the fun personality of the chef, along with beautiful plating technique, while definitely not playing it "safe". I was presented with a pretzel crusted crabcake and a scallop benedict served on a potato cake, a thin slice of chorizo, and a fried quail egg.
When this plate hit the table, I was blown away by the presentation. It was so beautiful, I didn't want to eat it. Truly a piece of art. I started with the pretzel crabcake, which was a delicious crabcake, completely encrusted by pretzel sticks that were tied together. The flavor was phenomenal, as was the texture. After scarfing down the crabcake, I dug into the scallop benedict, yet another dish that was perfect.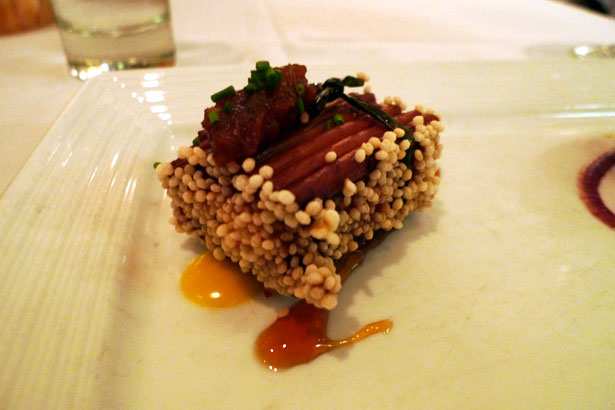 On to the next course, which was the first in my entrees. It was turbot served on a bed of basques pepper salad with a manchego crisp and garnished with cilantro.
I can't even begin to describe how delicious this dish was. I've been to some of the top restaurants in the world: Per Se, Fleur de Lys, etc, and I am officially adding this dish as one of my top 3 memorable dishes that I've ever eaten. The turbot was perfectly cooked…slightly crisp on the outside, tender and flaky on the inside. The basques pepper salad added the exact perfect balance of acid, then the manchego crisp and the cilantro finished each bite with a savory, crisp finish. I can still taste this dish…absolutely amazing. AMAZING!

The fullness was already setting in, and I knew I still had a few more courses to go…focus, man…focus. My next dish was a poached rabbit loin wrapped in speck with sesame powder served on a wasabi mustard with a side dish of rabbit leg confit mixed with spaetzla and the rabbit jus.
The rabbit was extremely tender. It almost seemed that it was cooked suis vide, so I double checked with server to confirm that it was in fact poached. The speck added a great saltiness to the ever-so-slightly tender, gamy rabbit. The confit was hearty and delicious…a perfect balance for the overall dish. Excellent.

At this point, I was stuffed, and still had 2 more courses coming. I was getting nervous thinking I may not be able to pull it off. But I did. Next up, squab with foie gras, served with a rhubarb marmalade and cashews. Again, another beautiful, delicious dish. The squab with the foie was a perfect combination. I had a slight sweet and savory experience with this dish.

Dessert was next, which was appeared to be a deconstructed pineapple upside down cake served with a chocolate mousse cake. The presentation on this dish was beautiful. Again, another piece of art. These dishes were full of flavor, yet not too rich.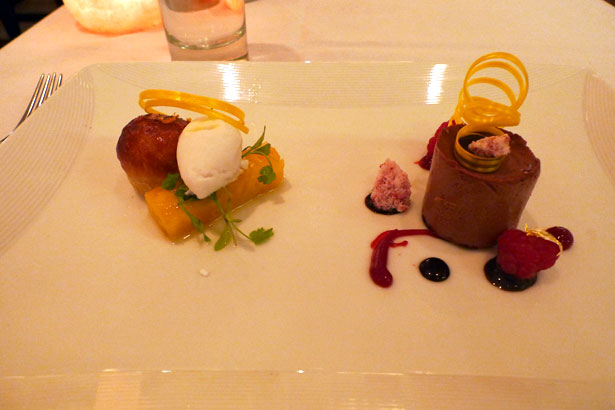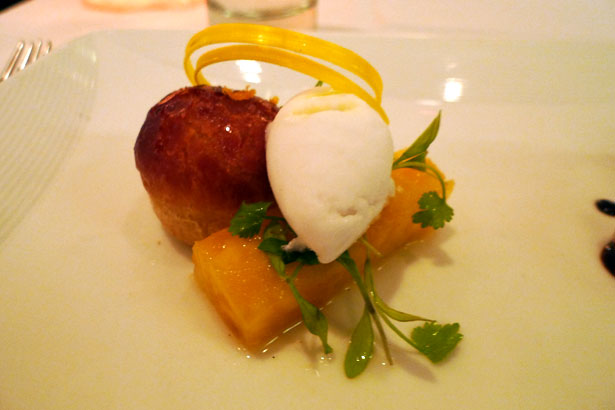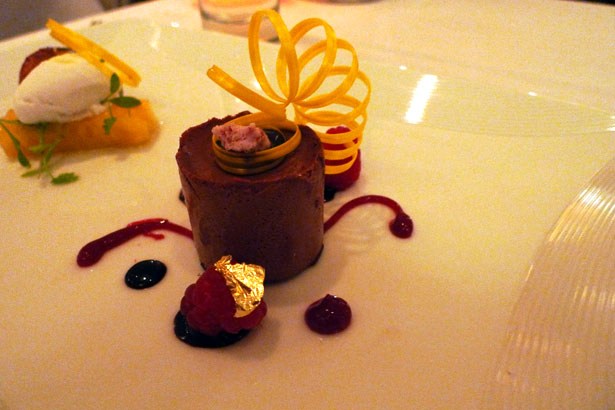 The service at David Burke Townhouse was excellent. The server took the time to describe each dish with me, answered my questions, and made me feel at home.
I also had the pleasure of meeting the General Manager, Teddy. He was a great guy, made me feel like family while I was there. I will definitely be back!
David Burke Townhouse
133 E. 61st Street
New York, NY
David Burke Townhouse Facebook fan page