Being down in San Diego for Comic-Con for my "real" job has allowed me to eat at some of San Diego's finest restaurants. I went to Searsucker and Roy's, and just last night I had the opportunity to dine at San Diego's finest restaurant, Bertrand at Mister A's. I've heard a LOT of good buzz about this place, namely, their unbelievable view. The view was almost as spectacular as the menu.
This restaurant is located on the 12th floor of what appears to be an office building up on Fifth Avenue. Once you step off the elevator, you're greeted by the hostess. We were a little bit early for our reservation, so they suggested we grab a cocktail at the bar. To get to the bar, you have to walk through the dining room, which made me feel slightly awkward. The bar itself was tiny. We were unable to get up to it to get a drink, so I had to go to where the wait staff puts in their drink orders to get our drinks. A few minutes later, our table was ready, and we were taken to a great table in the middle of the dining room. The location allowed for us to do a little people watching as well as enjoy the beautiful nighttime view of San Diego.
Our server was extremely attentive, which was really nice after experiencing the bar experience. He took the time to explain our menu, and even had some great off-menu suggestions for the vegetarian at our table.
I started with the mac & cheese with comté cheese, black truffles, and pancetta. This dish was really creamy and the macaroni was al dente, which is how I like it. After a few bites, you are slammed with the wonderful truffle flavor. I was slightly disappointed as the pancetta was overshadowed by the truffle. This dish was also slightly lacking in salt…but nonetheless, it was really good.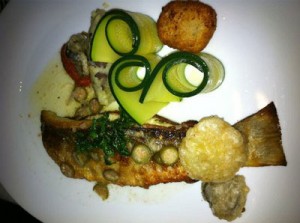 For my entree, I had the roasted Mediterranean "Loup De Mer" with oregano and lemon olive oil. I was slightly worried about the presentation, which was described to me as a "whole fish", but when it was brought out, it looked gorgeous. A perfectly crisped skin, filet'd off of the bone, with the tail attached. The fish was buttery, flaky, and had a lot of flavor.
As a side, I ordered the confit fingerling potato with rosemary and thyme. These potatoes were to die for. So, so good.
Now that I was stuffed with a great meal, I couldn't end it there…yes, I did opt for dessert, which was the warm bittersweet chocolate fondant with flour de del caramel ice cream. The presentation was beautiful, and the chocolate was decadent. The highlights of the plate were the salty caramel ice cream, with a tiny little chocolate piece topped with a tiny piece of salted caramel. Incredible!
All in all, Bertrand at Mister A's was outstanding. Five star dining all the way! Great food, fantastic service, and an unbelievable view of San Diego.
Bertrand at Mister A's
2550 Fifth Avenue Twelfth Floor,
San Diego, CA 92103
Bertrand at Mister A's website
Check out these beautiful photos of the food at Bertrand at Mister A's