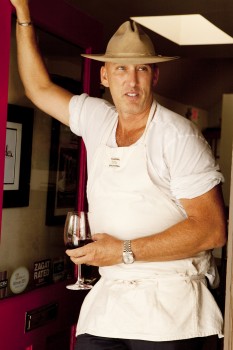 Hearing about all you can eat fried chicken in LA is a rarity. I mean, we do have Dinah's…and I guess occasionally you can dump $40 and get a couple of buckets from the Colonel that might satisfy the "all you can eat." Well, Chef Mark Gold is bringing back his all you can eat fried chicken to his cute little restaurant on Beverly Blvd, Eva.
Starting Wednesday, and every Wednesday thereafter, you can get your fix of all you can eat deliciousness from Chef Gold's fryer, er, kitchen. He's officially bringing back his famous Fried Chicken, and will also be offering $5.00 sides of mac & cheese, green beans, crushed potatoes or creamed corn, $5.00 desserts that will change weekly, as well as Gabriella Mlynarczyk's entire list of hand crafted cocktails for $10.00 each.
Here's the official menu:
Eva Restaurant
Wednesday Evening
Menu
All-you-can-eat
fried chicken
$19.99
Sides
$5 each
mac + cheese, green beans, crushed potato, creamed corn
Desserts
$5 each
Gabriella's cocktails
$10 each
la dolce negra… aquavit/carpana antica/ cynar
the mule… gin or vodka/ginger cane/mint/lemon/soda
flintlock… blended scotch/lapsang/bergamot/orange
norwegian wood… aquavit/dolin blanc/mint/cucumber/fresh/lemon/ginger
ransom note… ransom gin/fernet/dolin blanc/carpana
fair-weather… gin/muddled seasonal fruit/cane syrup
miss bennet… beefeater gin/homemade grenadine/egg white/lemon/mint/saint germaine foam
ol vernon's grog… sailor jerry's rum/ginger/lime/marmalade
barrio chinoto… herradura blanco/yuzu/aperol/saint germaine
sinnerman… buffalo trace bourbon/herbsaint/lemon/bergamot
contrary mary… aquavit/cherry tomatoes/yuzu koshu/lime
Eva Restaurant will be accepting reservations from 6:00 pm to 10:00 pm every Wednesday and walk-ins are welcome. Guests must be 21 years or older and have a valid ID to be served alcohol. Valet Parking is available. For information and reservations, please call Eva Restaurant at 323.634.0700.
Eva Restaurant
7458 Beverly Blvd.
Los Angeles, CA 90036
T: 323.634.0700
Eva's website
Eva's Facebook
Eva's Twitter
Comments
comments