I discovered this one day when I was a bachelor. I just felt like taking a microwave pizza and dressing it up a bit. To this day, my wife always trips out that a microwave pizza can taste so surprisingly delicious. It's definitely not the healthiest thing in the world, but it's cheap, it fills you up and it's damn good.
Jeno's/Totino's 420 Calzone.
1. Take one frozen Jeno/Totino Pizza out of its cardboard box.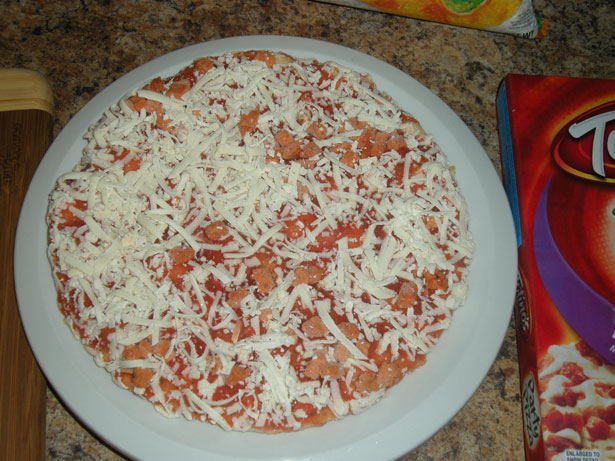 2. Add any topping you may find appetizing. Ie: Onions, Real Pepperoni, More Cheese, Peppers, Pineapple, maybe even …wait for it…Bacon. Add whatever you desire. You're only limited by your imagination.
3. Microwave on high for 2 1/2 minutes, with the added toppings.
4. When there is about 30 seconds left to go on the microwave, heat up a frying pan to high and add a little bit of olive oil or butter (If you're really going for the heart attack by 35) to the pan. Enough to thinly coat it.
5. Make sure the center of the pizza is not cold before placing it in the pan. If it's cold, nuke it a little longer.
6. Take the pizza out of the microwave, place into the frying pan and fold pizza in half with a fork and a spatula or any other utensil you deem worthy of the task. Turn the pan down to a medium high, and fry until golden brown on both sides. Maybe even burn it a tad. This adds a bit of a crunch, and the crunch puts it over the top.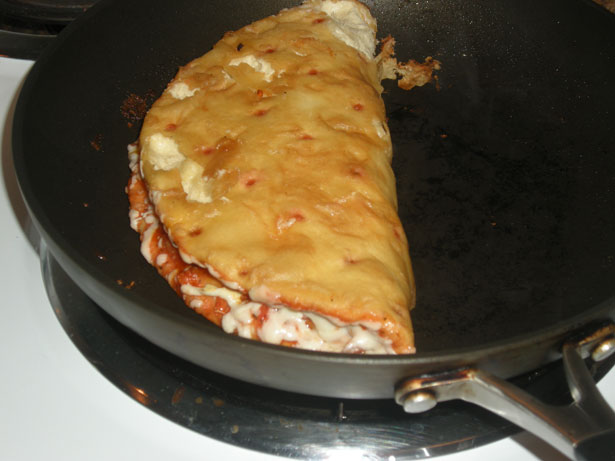 7. Once it is golden brown with a couple of burns on both sides, slide it onto a plate and let it cool for a bit.
8. Turn on the TV and find something good to watch. Ie: South Park, Commando or PS I Love You if you need a good cry.
9. Once you've found something. Get the plate with your calzone on it, sit down in front of the TV and enjoy.