So, again…I was recently alerted to another Mexican joint as a "must eat at" to continue my quest for the best tacos in Los Angeles. At first I was a bit leary, as I have really high expectations for Mexican food living in Los Angeles, PLUS I've had some amazing tacos. My criteria is fairly simple for Mexican food: it must be delicious, and it must be interesting or stand-out. Well, Tinga is both.
On the outside, Tinga is a quaint little hidden gem. It's fairly easy to miss unless you're actually looking for it. It's located on a cute little part of La Brea Blvd, surrounded by a few other café's and high-end boutique furniture stores.
Once inside, you are struck with a delicious aroma of probably the slow-cooking meat, along with its raw, contemporary decor, which leaves you with a feeling of creativity. The menu is on a large board on the left. Don't forget to check out the specials!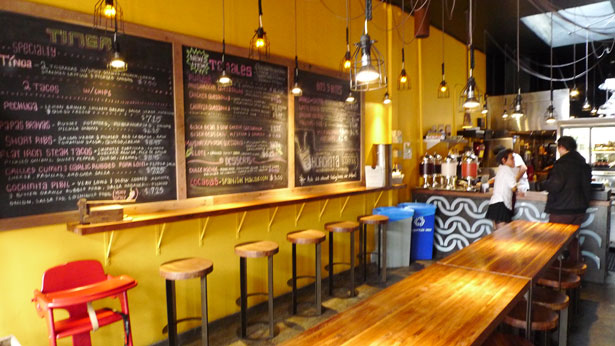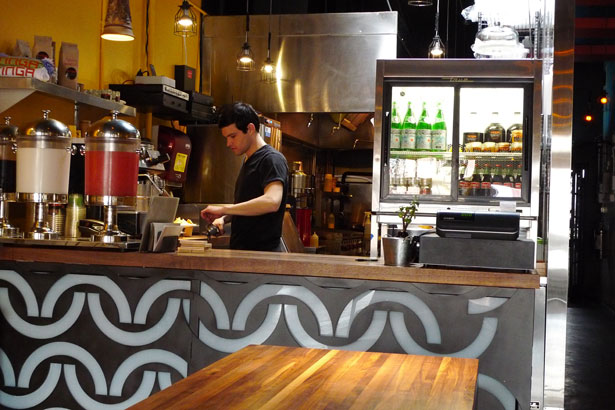 Half of the fun of trying a new restaurant (aside from the taste of the food) is to see how creative the dish is. Are the ingredients and food fresh? Are the ingredients interesting and different? Is the presentation nice? And finally, does it all work well together to create a fantastic experience? At Tinga, I would say the answers are Yes, Yes, Yes, and Yes. In fact, the food was so good on my first try there, that I had to go back the next day to try some different items so that I can compile a pretty comprehensive review (and to satisfy my taste buds).
Here's what I have tried so far:
48 Short Rib Tacos – salsa verde and pickled red cabbage, raw tomatillo salsa, papas bravas, queso fresco, crema ($8.50). This is their specialty dish. The tacos are not only absolutely delicious, but their presentation is beautiful. The beef is extremely tender and flavorful. The papas bravas add a perfect balance for the crispiness of the pickled red cabbage and for the heat of the salsa. An absolute MUST TRY.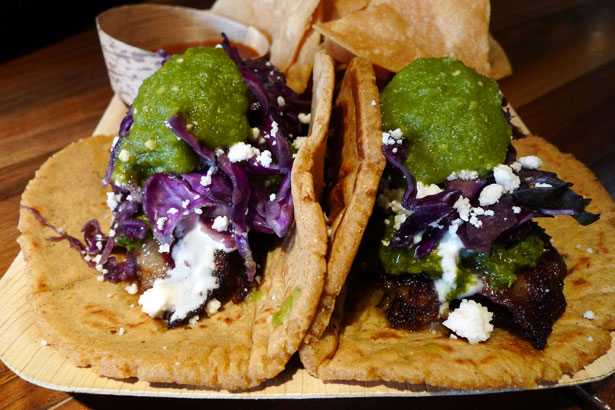 Cochinita Pibil Tacos – very long and slow cooked achiote and bitter orange rubbed pork, pickled cabbage, salsa habanero, salsa for Conchinita Pibil very very spicy ($6.50). These tacos are SPICY. I mean, I can really stand heat. In fact, I opt for anything spicy and usually end up wishing it was kicked up a notch. Not here. The salsa habanero is H.O.T. The tacos themselves are quite good. The pork is extremely tender and flavorful, and works extremely well with the pickled cabbage. Next time, I'm gonna go a little light on the habanero salsa.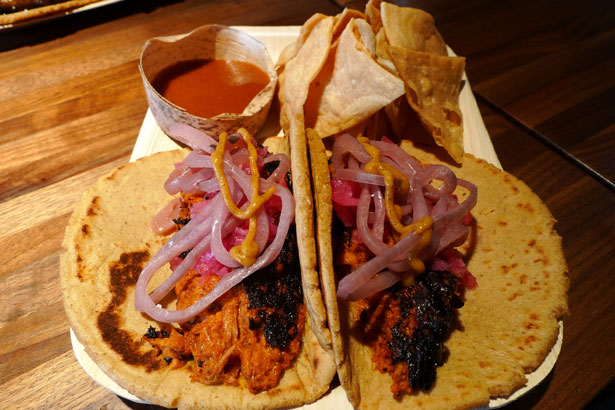 Elote Especial – grilled sweet corn, creamy lime, chili, poblano puree ($5.00). This is another MUST TRY dish. The corn is soo sweet, fresh, and crisp, and is complimented perfectly with the lime, chili, and poblano puree. Absolutely perfect.

Chicken Nachos – thick tortilla chips, chicken tinga, crema and guacamole ($10.50). These were good. The chicken has a very satisfying flavor with a hint of citrus. I think in the world of nachos, you can't get too fancy or out of the ordinary. They are really good, so if you're in the mood for nachos, I recommend giving them a try.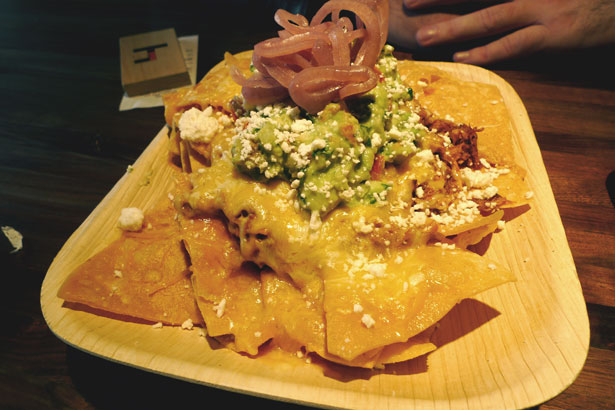 Chile with Chorizo – This was a special one day, so I decided to give them a try, and boy am I glad I did. This was delicious. The chili was simple in terms of ingredients, however, the flavor was complex. I could almost taste each ingredient separately with each bite. Not only was this dish tasty, but it was beautiful to look at. I can't wait to have this again.

All in all, Tinga is an amazing little gem. If you're looking for a new twist on Mexican food, with fresh ingredients and amazing taste, then look no further. In addition to their great food, they have some really good drinks. My 2 favorites are the watermelon lemonade and the blueberry honey ginger lemonade. Light, cold and refreshing.
If you are going to Tinga for your first time, and want a perfect meal, then I highly recommend the following dishes: 48 Braised Short Rib Tacos, Elote Especial, and a Watermelon Lemonade. You can't get any better than that!

Tinga
142 South La Brea Blvd.
Los Angeles, CA 90036
(323) 954-9566