Ever since I left Los Angeles, I've been craving a lafa wrap. In particular, the one at Hollywood Pita right by the Whiskey. It has since closed, but their lafa wraps were amazing. They were the best ones I had ever had, considering at that time they were the only ones I had ever had. My opinion on the matter of lafa wraps was and still is rather limited…but then who cares? They had always left my taste buds craving for more and isn't that really all what we're asking for in food?
Since moving from LA to San Diego, I would crave one every now and then, but would soon forget about it or just push it out of my mind because I was too lazy to search. Until one day when I thought, why don't I just go online and look for a freakin good place for a lafa wrap. Wow I'm fast. Out from an arduous half minute Google search, I found The Kebob Shop in Mira Mesa. However, they are not referred to as lafa wraps at the Kebob shop, but are instead referred to as doners. Are doners are the Turkish version of the lafa wrap, or are lafa wraps are the Isreali version of the doner? The answer is no. A doner is the Turkish way of saying Shawarma (meat off a skewer). It's a little confusing because there is a tendency to refer to the whole wrap as a doner. I hope I am correct, because quite frankly, I am not an expert in the field Middle Eastern foods, so I could be totally off about all of what you've just read. All I can tell you is this, I know what tastes good.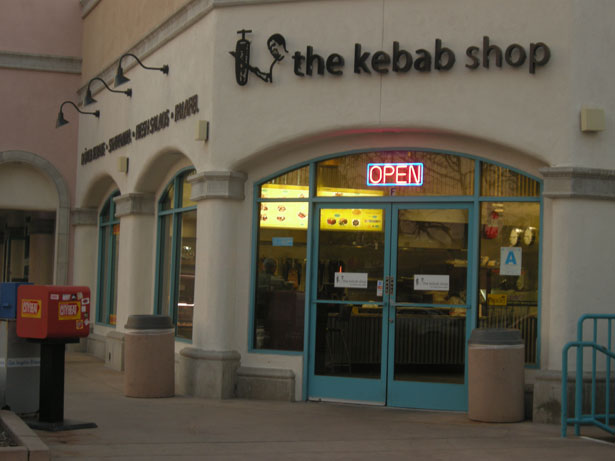 When I found this place, memories of Hollywood Pita sprung into my head. The thought of a lafa wrap with fresh chicken shawarma being cut off of the rotating skewer and on to a lafa made my mouth water. When I walked into the Kebob Shop, I saw the stack of chicken breasts rotating and being cooked on a skewer with a tomato on top of it, and knew I was in for a treat. I went up to the register and ordered a chicken doner (wrap), which costs $6.25 and a soda which I totally forgot the cost of. It's probably a buck 50.
As I waited for my doner to be prepared, my eyes wondered around the shop. I noticed four clocks on the wall, each with a different city labeled beneath. There was Amsterdam, San Diego, Istanbul and Sydney. I also noticed some writing on the glass between the counter and the restaurant area, which stated that they would put some sambal into your food if you asked. That combined with that they offer mayo for your fries, really made me see that this wasn't just purely Turkish. It was Turkish with Euro/Indonesian influences.
According to one of the clocks, Australian influences must have been lurking in there too, but I just don't know where. Question: where is the clock with Java or Sumatra under it? Sambal is being used, but no credit is being allocated? Also, the lafa they use is rather thin and resembles a large tortilla (It more than likely is). So, where is Mexico City? They probably use a thin lafa because it's easier to roll up than a thick lafa. Oh well, I'm going too far off on a trivial tangent. I need quit being so damn persnickety. That's all just aesthetics. Anyways, I really love all of the cultural influences, because I find it to be a beautiful thing when you can combine different cultural aspects. It adds flavor and a kick as far as the sambal is concerned.
I also watched them make my doner, and was sadly disappointed that they did not directly carve the chicken off of the skewer onto the wrap. It adds a little browning to the chicken when this is done. Instead, they took the chicken that I assume was previously cut off of the skewer from out of a heating pan. The Chicken was combined in the wrap with lettuce, tomato, onion, cucumber and a garlic yogurt sauce. I don't know if taking the chicken out of a heating pan as oppose to carving it off of the skewer was the reason, but it just wasn't as good as the one I would get from Hollywood Pita. However, it was still really freakin good and I have since gone back quite a few times.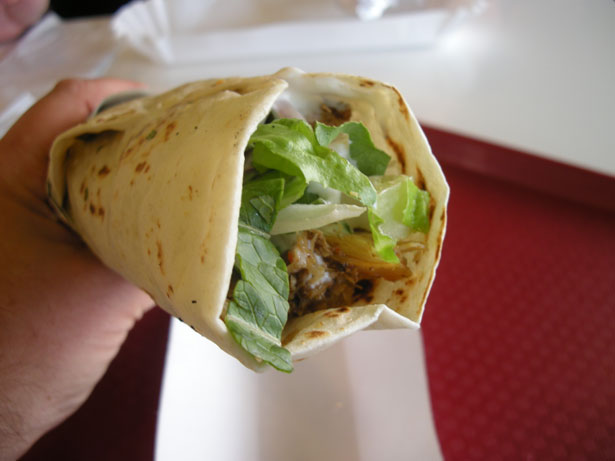 The Kabab Shop offers both the sambal, which as I previously mentioned is an Indonesian spicy sauce, and the garlic yogurt sauce on the side too. Both of these sauces really go well with the doner and other dishes on their menu. The sambal is not as potent as the sambal you can get at 99 Ranch Market in the Indonesian isle, but it does the job.
All in all, even though they don't cut the chicken fresh off of the skewer, it is really scrumptious, and you get a lot for your money, because it fills you up. So you really should think twice about ordering their deliciously mouth pleasing fries on the side.
Novice as my opinion may be, I highly recommend this place.
The Kebob Shop has two locations.
Downtown San Diego:
630 9th Avenue
San Diego, CA 92101
Mira Mesa:
9450 Mira Mesa Blvd.
Mira Mesa, CA 92126