Las Vegas has some great dining, and it just keeps getting better. No matter where you stay, you are surrounded by the next venture created by that celebrity chef that you might see on TV, or by some kitschy type of eatery that lures you in, and in some cases, will disappoint you.
I'm staying at the MGM Grand, and I'm surrounded by some FANTASTIC restaurants, Craftsteak by Tom Collichio, Joel Robuchon, and Seablue by Michael Mina. Sometimes, some of the OTHER great restaurants are often overshadowed by the great names. Last night I decided to take a chance on something new, and less "popular" if you will. I went to The Grand Wok & Sushi Bar.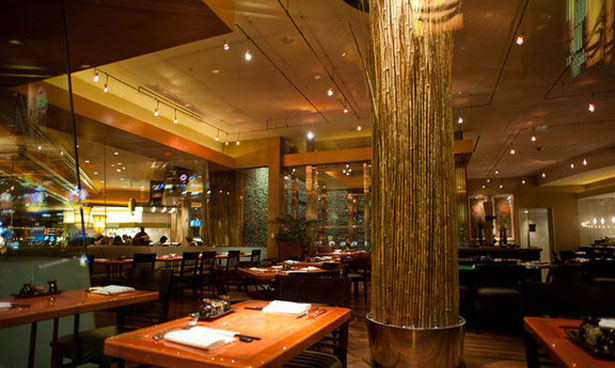 Outside, all you see is giant glass windows with a lot of tables. The inside has a really cool, contemporary design, paired with a great lively energy. This place is energetic, yet not too loud, which is a huge pet peeve of mine. The servers are very attentive, friendly, and fast. I mean really really fast.
Our menu consisted of miso soup to start, followed by a red dragon roll and beef lo mein, and finished with the honey walnut shrimp. Of course we had an ice cold Kirin to wash it all down.
Their miso soup was really good. In fact, it actually stood out to me from the rest that I've had. Usually, miso soup is just a salty broth with some tofu and seaweed. You know, that one thing that helps curb your monstrous appetite during that lengthy period from when you order the sushi until it hits your table. The miso at Grand Wok was really hearty, and lacked the massive salt infusion. The seaweed was of the highest quality, not paper thin, but had good substance.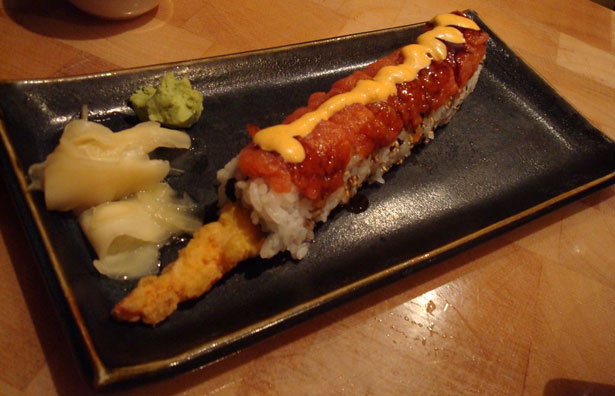 The red dragon roll was insanely good. I mean, how can you go wrong with tempura shrimp, spicy tuna, spicy masago, and eel sauce? The texture and the finish of eel sauce is what made this sushi amazing.
The beef lo mein was another winner. Perfectly cooked spaghetti noodles with just the right balance of crisp veggies. The beef itself was a bit thicker than you would usually get for this dish. I liked very much.
And now onto the winner of the evening, the honey walnut shrimp. OMG, this is a great dish. It's sweet, sour, crispy, and soft. This dish makes you want to abandon everything you're doing and become a Chinese chef so you can spend years on end perfecting this dish as they have. The shrimp were huge, and evenly coated with the honey sauce, served over a bed of microgreens and crisp, sweet roasted walnuts. When this hit my tongue, I just wanted to shove the entire dish in my mouth and chew for hours. Amazing!
My conclusion of the evening is that sometimes when you're in Las Vegas, you may just have to take that chance and choose one of the less-popular joints. You never know, you may stumble upon that hidden gem.
The Grand Wok & Sushi Bar
Hours:
Lunch & Dinner
Sunday – Thursday 11:00am – 10:00pm
Friday and Saturday 11:00am – 1:00am
Sushi Bar:
Sunday – Thursday 11:00am – 10:00pm
Friday & Saturday 11:00am – 1:00am